02 mai 2007
This is just the beginning of my life NOW
Hi everyone,

So, now the article are gonna be in english because most of my reader speak english. I'm in London waiting for my departure to Lyon (FUCK !!!!!!!!!). The way back is really difficult especially because i've have my new family in NYC !!

But i'm gonna be back soon and everything is gonna be allright !!!!

So for my last day of class (and the gift of Mr Lamb the best teacher EVER) we went (IVAN, MARCIN and I) to BBQ to have the final MARCIIIIIINIIIII (i'm kidding actually it was just a Martini, i don't wanna die :D ). After That back home to finish the Special Pasta with Ivan with the beautifull view on the QUEENSBOROUGH BRIDGE)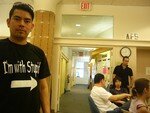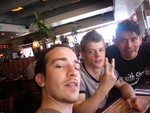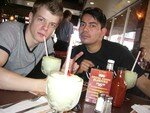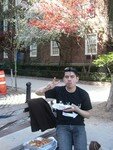 After the food we were once again totally full. So let's go back Home. I was a little bit worried about my luggage, the flight and everything that's why i didn't sleep. As a result I joined Anne and Ivan at 10pm for the Mexican party with a AWFULL FACE !!!!

I was so tired but the party was AWESOMEEEEEEEEE and more than that. IVAN IS THE BEST DANCER EVERRR (WITH A MAGNIFICENNNNNNNNNNNNNNTTTTTT). We went back home it was something like 5am :D.

The day after last coffee and on my way to the airport. We took the plain at 18h30 and it took of at something like 19h (LATE AGAIN and everybody know that i love to wait :D ). I was set close to young boy who every 5min was desperate to use the restroom !!! SO FUNNY.

From London to Lyon less than one hour. When i arrived in Lyon my father was there waiting for me.

I didn't take any picture because firstable i was so tired and i needed time to think...

So I hope you liked my blog and don't worry for now, It's just the BEGINNING OF MY LIFE: LIKE A REBIRTH !!!!!

Commentaires
Poster un commentaire